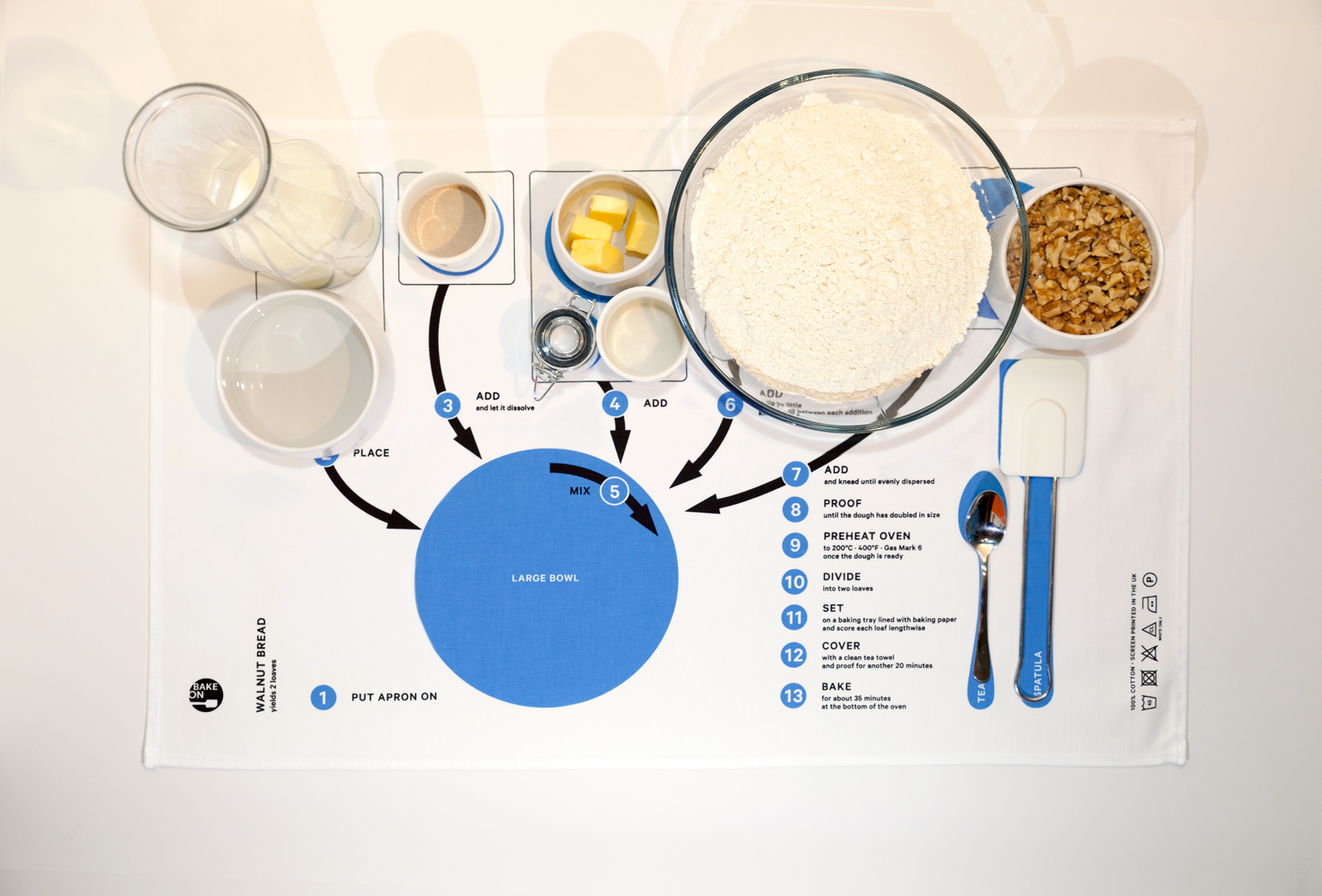 Walnut Bread
tea towel with baking recipe
17 $
The Walnut Bread tea towel is a brand new type of tea towels that allow you to bake directly on them. They have a spot for each ingredient and the recipe broken down into easy steps.
The collection is screen printed and made out of high quality cotton. Use it as a pop of colour in your kitchen or make it the perfect gift for a stylish baker or enthusiastic little kitchen helper.
The towels are designed in Copenhagen, Denmark and printed in the United Kingdom.
DETAILS
- 100% heavyweight cotton
- hemmed on all sides
- approximately 78x48 cm (38.75x19 in.)
- designed in Denmark
- screen printed in the United Kingdom
---
RECIPE
Walnut bread
yields 2 loaves
400ml - 1.6 cups whole milk (at room temperature)
200ml - 0.75 cup water (at room temperature)
50g - 1.75 oz active yeast
1 tsp sugar
1 tsp salt
50g - 0.25 cup butter (cut in cubes)
1kg - 8.3 cups bread flour
200g - 2 cups walnuts (roughly chopped)
In a large bowl, place the whole milk and water. Add the yeast and let it dissolve.
Mix in the salt, sugar, butter.
Add the flour, little by little, kneading well between each addition.
Once all the flour has been added, add in the walnuts and knead until evenly dispersed.
Let the dough rise until it has doubled its size.
Once it has risen, preheat oven to 200°C - 400°F - Gas Mark 6
Divide the dough in two and shape the loaves. Set them on a baking tray covered with baking paper.
Score each loaf lengthwise. Cover with a clean tea towel and proof for another 20 minutes.
Bake at the bottom of the oven for about 35 minutes.